Massive hemoptysis in a pregnant woman: the first rare presentation of mitral valve stenosis
Abstract
Massive hemoptysis is one of the rare manifestations of mitral valve stenosis. Massive hemoptysis is considered as a potentially life threatening that frequently needs emergency procedures. A 43- year-old pregnant woman presented with coughing and massive hemoptysis. She was diagnosed severe rheumatic mitral stenosis. The patient underwent percutaneous transluminal mitral valvuloplasty (PTMC). Before ICU admission and hospitalization, she was healthy, without any past medical history and complaints.
Downloads
Download data is not yet available.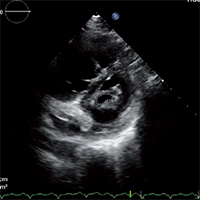 Downloads
Info
Section
Pneumology - Case Reports
Keywords:
Massive Hemoptysis, pregnant woman, mitral valve stenosis
Statistics
Abstract views:

262



PDF:

126
How to Cite
Hashemi, Fatemeh, Fariba Rezaitalab, and Majid Jalalyazdi. 2020. "Massive Hemoptysis in a Pregnant Woman: The First Rare Presentation of Mitral Valve Stenosis". Monaldi Archives for Chest Disease 90 (2). https://doi.org/10.4081/monaldi.2020.1200.