Convex probe endobronchial ultrasound guided transbronchial/transoesophageal fine needle aspiration (C-EBUS-TBNA/EUS-B FNA) of pleural lesions: A single center experience and review of literature
Abstract
The evaluation of pleural diseases has been well established. If pleurocentensis is non-diagnostic, the second investigation depending upon availability could be either closed pleural biopsy or image guided pleural biopsy or thoracoscopic pleural biopsy (medical or surgical). Pleural disease presenting as thickness/mass/nodule in the mediastinum is difficult to access through ultrasound or computed tomography and will need thoracoscopy. Thoracoscopy is an invasive procedure which can be difficult to perform in localized mediastinal pleural disease without effusion or poor health condition not suitable for general anesthesia. An alternative method that can be utilized is sampling of pleural lesion through convex probe endobronchial ultrasound (CEBUS) either through the central large airways or from esophagus if the lesions are in proximity. We present our center's experience in diagnosing pleural lesion using C-EBUS in 4 patients along with review of the literature.
Downloads
Download data is not yet available.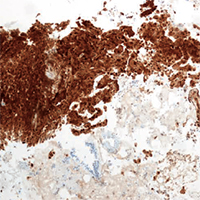 Downloads
Info
Section
Pneumology - Case Reports
Keywords:
Endobronchial ultrasound, EBUS, EUS-B, pleural lesion
Statistics
Abstract views:

329



PDF:

224
How to Cite
Tamburrini, Mario, Dipesh Maskey, Nirupam Sharan, T.K. Jayalakshmi, Umberto Zuccon, and Giuseppe Deda. 2020. "Convex Probe Endobronchial Ultrasound Guided transbronchial/Transoesophageal Fine Needle Aspiration (C-EBUS-TBNA/EUS-B FNA) of Pleural Lesions: A Single Center Experience and Review of Literature". Monaldi Archives for Chest Disease 90 (3). https://doi.org/10.4081/monaldi.2020.1207.