Proteomic characterization of idiopathic pulmonary fibrosis patients: stable versus acute exacerbation
Abstract
Acute exacerbations (AEs) are among the main causes of death in idiopathic pulmonary fibrosis (IPF) patients. In this study proteomic comparative analysis of bronchoalveolar lavage (BAL) fluid samples was performed in stable IPF patients versus AEs IPF group to identify AE pathogenetic mechanisms and novel potential predictive biomarkers. A functional proteomic analysis of BAL fluid samples from stable and AE-IPF patients was conducted in a population of 27 IPF patients. Fifty-one differentially abundant spots were observed and identified by mass spectrometry. Enrichment analysis found proteins of interest involved in the regulation of macrophages and lipid metabolism receptors. In acute exacerbation IPF group, differentially abundant proteins were involved in propagation of the β-catenin WNT transduction signal, and proteins up-regulated in lung carcinogenesis (IGKC, S100A9, PEDF, IGHG1, ALDOA, A1AT, HPT, CO3 and PIGR) and acute phase proteins involved in protease-antiprotease imbalance (such as A1AT fragments). Dot-blot analysis of A1AT C-36 peptide allowed validating our findings, confirming up-regulation in AE IPF patients and suggesting its potential pathogenetic role. A crucial role of protease/antiprotease imbalance, clathrin-mediated endocytosis signalling and carcinogenesis emerged in IPF patients developing acute exacerbations.
Downloads
Download data is not yet available.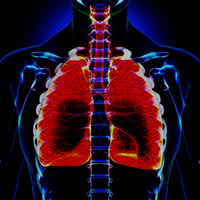 Downloads
Info
Section
Pneumology - Original Articles
Keywords:
Idiopathic pulmonary fibrosis, acute exacerbation, bronchoalveolar lavage, proteomics, protease/antiprotease imbalance
Statistics
Abstract views:

763



PDF:

455

Supplementary:

63
How to Cite
Carleo, Alfonso, Claudia Landi, Antje Prasse, Laura Bergantini, Miriana d'Alessandro, Paolo Cameli, Sabina Janciauskiene, Paola Rottoli, Luca Bini, and Elena Bargagli. 2020. "Proteomic Characterization of Idiopathic Pulmonary Fibrosis Patients: Stable Versus Acute Exacerbation". Monaldi Archives for Chest Disease 90 (2). https://doi.org/10.4081/monaldi.2020.1231.