Alternative sites of ventricular pacing: His bundle pacing
Abstract
Since its introduction right ventricular apical (RVA) pacing has been the mainstay in cardiac pacing. However, in recent years there has been an upsurge of interest in permanent His bundle pacing (HBP), given the scientific evidence of the harmful role of dyssynchronous ventricular activation, induced by RVA pacing, in promoting the onset of heart failure and atrial fibrillation. After an intermediate period in which attention was focused on algorithms aimed at minimizing ventricular pacing, with partially inadequate and harmful results, scientific attention shifted to HBP, which proved to ensure a physiological electro-mechanical activation of the ventricles. The encouraging results obtained have allowed the introduction of HBP in recent guidelines for cardiac pacing in patients with bradicardia and cardiac conduction delay. Recent studies have also demonstrated the potential of HBP in patients with left bundle branch block and heart failure. HBP is promising as an attractive way to achieve physiological stimulation in patients with an indication for cardiac resynchronization therapy (CRT). Comparative studies of HB-CRT and biventricular pacing have shown similar results in numerically modest cohorts, although HB-CRT has been shown to promote better ventricular electrical resynchronization as demonstrated by a greater QRS narrowing. A widespread use of this pacing tecnique also depends on improvements in technology, as well as further validation of effectiveness in large randomised clinical trials
Downloads
Download data is not yet available.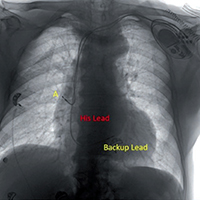 Info
Section
Cardiology - Reviews
Keywords:
His bundle pacing, right ventricular pacing, cardiac resynchronization therapy, biventricular pacing, left bundle branch block
Statistics
Abstract views:

531



PDF:

207
How to Cite
Vetta, F., Marinaccio, L., & Vetta, G. (2020). Alternative sites of ventricular pacing: His bundle pacing. Monaldi Archives for Chest Disease, 90(2). https://doi.org/10.4081/monaldi.2020.1251
Copyright (c) 2020 The Author(s)
This work is licensed under a Creative Commons Attribution-NonCommercial 4.0 International License.