Cryptococcal empyema treated with tube thoracostomy and intrapleural fibrinolysis
Akshay Kohli

Department of Internal Medicine, Medstar Washington Hospital Center, Washington, United States.

Ashutosh Sachdeva

Department of Medicine, University of Maryland School of Medicine, Baltimore, MD, United States.

https://orcid.org/0000-0001-6491-8740
Edward M. Pickering | epickering@som.umaryland.edu

Department of Medicine, University of Maryland School of Medicine, Baltimore, MD, United States.

https://orcid.org/0000-0001-9873-4974
Abstract
A 55-year old woman with a history of relapsed T-cell ALL presented with right pleuritic chest pain and decreased breath sounds over the right hemithorax. Imaging of the chest showed loculated effusions. Tube thoracostomy was performed with intrapleural application of alteplase and dornase alpha over a 3-day period. Repeat imaging demonstrated a marked decrease in the volume of the effusion. In most prior published cases of pleural cryptococcosis, surgical drainage was required in addition to prolonged antifungal agents. More than 50% of patients with cryptococcal infection have severe underlying disease or immunodeficiency state making them high risk for surgery. This is the first case to our knowledge of cryptococcal empyema successfully treated with tube thoracostomy and intrapleural fibrinolysis.
Downloads
Download data is not yet available.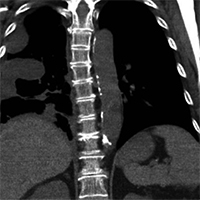 Info
Section
Pneumology - Case Reports
Keywords:
Empyema, cryptococcal, fungal, fibrinolytics, tube thoracostomy
Statistics
Abstract views:

84



PDF:

23
How to Cite
Kohli, A., Sachdeva, A., & Pickering, E. M. (2020). Cryptococcal empyema treated with tube thoracostomy and intrapleural fibrinolysis. Monaldi Archives for Chest Disease, 90(4). https://doi.org/10.4081/monaldi.2020.1257
Copyright (c) 2020 The Author(s)
This work is licensed under a Creative Commons Attribution-NonCommercial 4.0 International License.