Novel use of the endobronchial ultrasound through esophagus (EUS-B): Diagnosis of thyroid lesions
Abstract
There is paucity in literature on the use of endobronchial ultrasound through esophagus (EUS-B) for the diagnosing thyroid gland lesions. We report the first case of colloid goiter diagnosed using EUS-B- FNA technique. A 77-year-old man presented with ophthalmic symptoms and an incidental finding of lung nodule on chest x-ray. The computed tomography of thorax revealed a left upper lobe nodule and an oval shaped left paratracheal lesion near left pole of thyroid gland. EUS-B- FNAC was performed which lead to the diagnosis of colloid goiter.
Downloads
Download data is not yet available.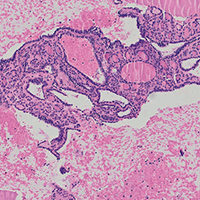 Downloads
Additional Files
Info
Section
Pneumology - Case Reports
Keywords:
Lymphadenopathy, endobronchial ultrasound through esophagus (EUS-B), thoracocentesis
Statistics
Abstract views:

236



PDF:

136

VIDEO:

0
How to Cite
Tamburrini, Mario, Parikshit Thakare, and Umberto Zuccon. 2020. "Novel Use of the Endobronchial Ultrasound through Esophagus (EUS-B): Diagnosis of Thyroid Lesions". Monaldi Archives for Chest Disease 90 (2). https://doi.org/10.4081/monaldi.2020.1275.