Respiratory physiotherapy in patients with COVID-19 infection in acute setting: a Position Paper of the Italian Association of Respiratory Physiotherapists (ARIR)
Abstract
Respiratory physiotherapy in patients with COVID-19 infection in acute setting: a Position Paper of the Italian Association of Respiratory Physiotherapists (ARIR)
On February 2020, Italy, especially the northern regions, was hit by an epidemic of the new SARS-Cov-2 coronavirus that spread from China between December 2019 and January 2020. The entire healthcare system had to respond promptly in a very short time to an exponential growth of the number of subjects affected by COVID-19 (Coronavirus disease 2019) with the need of semi-intensive and intensive care units.
Downloads
Download data is not yet available.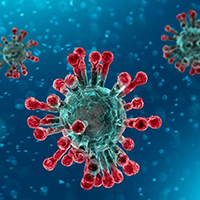 Downloads
Info
Section
COVID-19 - Collection of articles on the Coronavirus outbreak
Keywords:
Coronavirus, COVID-19, SARS-Cov-2, infection, physiotherapy, rehabilitation
Statistics
Abstract views:

43881



PDF:

30499
How to Cite
Lazzeri, Marta, Andrea Lanza, Raffaella Bellini, Angela Bellofiore, Simone Cecchetto, Alessia Colombo, Francesco D'Abrosca, Cesare Del Monaco, Giuseppe Gaudiello, Mara Paneroni, Emilia Privitera, Mariangela Retucci, Veronica Rossi, Martina Santambrogio, Maurizio Sommariva, and Pamela Frigerio. 2020. "Respiratory Physiotherapy in Patients With COVID-19 Infection in Acute Setting: A Position Paper of the Italian Association of Respiratory Physiotherapists (ARIR)". Monaldi Archives for Chest Disease 90 (1). https://doi.org/10.4081/monaldi.2020.1285.