Ventricular tachycardia: beginning and ending fate of a benign invasive cardiac lipoma
Abstract
Cardiac lipomas are rare benign heart tumors. Their clinical manifestations primarily depend on their dimension and location. We describe a case of a 14-year-old boy complaining of palpitations. ECG showed non-sustained ventricular tachycardia (NSVT). Echocardiography and cardiac MRI showed a large apical mass suggestive of a cardiac lipoma. The patient underwent open-heart surgery which detected a pericardial mass, partially attached to the myocardium, and crossed by the distal segment of LAD. This critical anatomical relationship prevents its complete resection. The biopsy confirmed mature fat tissue. Postoperatively, Propranolol was started for NSVT episodes. After 8 months, he presented with VT recurrence. A subcutaneous ICD (S-ICD) was implanted. Two months later, he was admitted for an electrical storm with six appropriate shocks. Since then, amiodarone was added. Lipomas are not always benign and their surgery might be very difficult and unhelpful. A multidisciplinary team is crucial for their diagnosis and management.
Downloads
Download data is not yet available.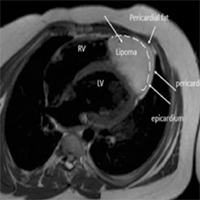 Downloads
Info
Section
Cardiology - Case Reports
Keywords:
Ventricular tachycardia, cardiac tumor, lipoma, ablation
Statistics
Abstract views:

299



PDF:

161
How to Cite
Vriz, Olga, Mawada M. Ahmed, Suleiman Kharabsheha, Mohammed Aladmawi, Bandar Alamro, Afrah AlSomali, Nader Fawzy, Aly ALsanei, and Najmeddine M. Echahidi. 2020. "Ventricular Tachycardia: Beginning and Ending Fate of a Benign Invasive Cardiac Lipoma". Monaldi Archives for Chest Disease 90 (3). https://doi.org/10.4081/monaldi.2020.1288.