COVID-2019: update on epidemiology, disease spread and management
Kamal Kant Sahu

Department of Internal medicine, Saint Vincent Hospital, Worcester, MA, United States.

https://orcid.org/0000-0002-0382-6882

Ajay Kumar Mishra

Department of Internal medicine, Saint Vincent Hospital, Worcester, MA, United States.

https://orcid.org/0000-0003-4862-5053

Amos Lal

Division of Pulmonary and Critical Care Medicine, Mayo Clinic, Rochester, MN, United States.

https://orcid.org/0000-0002-0021-2033
Abstract
With each passing day, more cases of Coronavirus disease (COVID-2019) are being detected and unfortunately the fear of novel corona virus 2019 (2019-nCoV) becoming a pandemic disease has come true. Constant efforts at individual, national, and international level are being made in order to understand the genomics, hosts, modes of transmission and epidemiological link of nCoV-2019. As of now, whole genome sequence of the newly discovered coronavirus has already been decoded. Genomic characterization nCoV-2019 have shown close homology with bat-derived severe acute respiratory syndrome (SARS)-like coronaviruses, bat-SL-CoVZC45 and bat-SL-CoVZXC21. Structural analysis of the receptor binding site has confirmed that 2019-nCoV binds with the same ACE 2 receptor protein as human SARS virus. Compared to the previous coronavirus outbreaks, the overall mortality rate is relatively low for COVID-2019 (2-3%). Suspected cases must be quarantined till their test comes positive or they clear infection. At present, treatment of COVID-2019 is mostly based on the knowledge gained from the SARS and MERS outbreaks. Remdesivir, originally develop as a treatment for Ebola virus disease and Marburg virus infections, is being studied for it effectiveness against 2019-nCoV infection. Many other antiviral agents and vaccines are being tested but most of them are in phase I or II and hence unlikely to be of any benefit immediately with regards to current outbreak. Hence, the standard infection control techniques and preventive steps for healthy individuals and supportive care for the confirmed cases is the best available strategy to deal with current viral outbreak. 
Downloads
Download data is not yet available.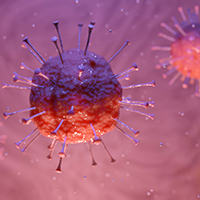 Info
Section
COVID-19 - Collection of articles on the Coronavirus outbreak
Keywords:
COVID-19, epidemiology, infection, pneumonia, mortality
Statistics
Abstract views:

7467



PDF:

5313
How to Cite
Sahu, K. K., Mishra, A. K., & Lal, A. (2020). COVID-2019: update on epidemiology, disease spread and management. Monaldi Archives for Chest Disease, 90(1). https://doi.org/10.4081/monaldi.2020.1292
Copyright (c) 2020 The Author(s)
This work is licensed under a Creative Commons Attribution-NonCommercial 4.0 International License.