COVID-19 and coagulative axis: review of emerging aspects in a novel disease
Abstract
Latest evidences from literature suggest that SARS-CoV-2 disease 2019 (COVID-19) is commonly complicated with coagulopathy and that disseminated intravascular coagulation is present in the majority of deceased patients. Particularly, conventional coagulation parameters appear to be significantly altered in patients with poor prognosis. A wide-ranging cross- talk between coagulative haemostasis and inflammation, as well as the activation of coagulation cascade during viral infections, are well established. Another important evidence which may explain coagulation disorders in COVID-19 is the increase of thrombus formation under conditions of hypoxia. Despite the exact pathophysiological mechanism of coronavirus-induced thromboembolism needs to be further investigated, this finding suggests that it is good practice to assess the risk of thrombosis in COVID-19 patients to improve the clinical management in terms of anticoagulation therapy. Anticoagulants, mainly low-molecular-weight heparin (LMWH), should be tailored in patients meeting sepsis induced coagulopathy (SIC) criteria or with markedly elevated D-dimer. In this context, further studies are needed to optimise the decision making in therapeutic approach.
Downloads
Download data is not yet available.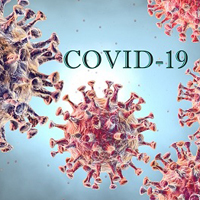 Downloads
Info
Section
COVID-19 - Collection of articles on the Coronavirus outbreak
Keywords:
COVID-19, SARS-CoV-2, sepsis, disseminated intravascular coagulation, coagulopathy
Statistics
Abstract views:

2653



PDF:

2003
How to Cite
Boccia, Matilde, Luigi Aronne, Benito Celia, Grazia Mazzeo, Maria Ceparano, Vito D'Agnano, Roberto Parrella, Tullio Valente, Andrea Bianco, and Fabio Perrotta. 2020. "COVID-19 and Coagulative Axis: Review of Emerging Aspects in a Novel Disease". Monaldi Archives for Chest Disease 90 (2). https://doi.org/10.4081/monaldi.2020.1300.