Incidental diagnosis of lung adenocarcinoma following coronavirus OC 43 severe pneumonia
Carlo Iadevaia

Department of Translational Medical and Surgical Science, University of Campania Luigi Vanvitelli, Naples, Italy.

https://orcid.org/0000-0003-4925-6333
Fabio Perrotta | fabio.perrotta@unimol.it

Department of Medicine and Health Sciences "V. Tiberio", University of Molise, Campobasso, Italy.

https://orcid.org/0000-0002-7223-7037

Grazia Mazzeo

Department of Translational Medical and Surgical Science; COVID Unit Vanvitelli, University of Campania Luigi Vanvitelli, Naples, Italy.

https://orcid.org/0000-0003-3724-655X

Francesco Saverio Cerqua

Department of Translational Medical and Surgical Science, University of Campania Luigi Vanvitelli, Naples, Italy.

Gennaro Mazzarella

Department of Translational Medical and Surgical Science, University of Campania Luigi Vanvitelli, Naples, Italy.

Salvatore Guarino

Department of Radiology, Monaldi Hospital, A.O.R.N. dei Colli, Naples, Italy.

Roberto Parrella

Department of Infectious Disease, COVID Unit Cotugno Hospital, A.O.R.N. dei Colli, Naples, Italy.

Andrea Bianco

Department of Translational Medical and Surgical Science; COVID Unit Vanvitelli, University of Campania Luigi Vanvitelli, Naples, Italy.

https://orcid.org/0000-0002-4692-5901
Abstract
Viral infections are frequent among patients with thoracic malignancies prompted by dysregulation of innate and adaptative immune response. Clinical symptoms and radiological findings of both viral pneumonia and lung adenocarcinoma may overlap resulting in diagnostic and clinical  challenges.We present the case of a women admitted to our department presenting with an acute manifestation of coronavirus OC43 pneumonia with underlying undiagnosed lung adenocarcinoma.
Downloads
Download data is not yet available.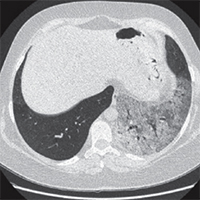 Info
Section
Pneumology - Case Reports
Keywords:
Coronavirus OC43, lung adenocarcinoma, NSCLC, viral pneumonia, acute respiratory failure
Statistics
Abstract views:

102



PDF:

56
How to Cite
Iadevaia, C., Perrotta, F., Mazzeo, G., Cerqua, F. S., Mazzarella, G., Guarino, S., Parrella, R., & Bianco, A. (2020). Incidental diagnosis of lung adenocarcinoma following coronavirus OC 43 severe pneumonia . Monaldi Archives for Chest Disease, 90(3). https://doi.org/10.4081/monaldi.2020.1313
Copyright (c) 2020 The Author(s)
This work is licensed under a Creative Commons Attribution-NonCommercial 4.0 International License.