A case of lung injury resembling diffuse pulmonary hemorrhage after the first administration of alemtuzumab in a patient with multiple sclerosis. Role of the HRCT
Abstract
Diffuse alveolar hemorrhage (DAH) is an acute often life-threatening condition characterized by a variable combination of hemoptysis, dyspnoea, diffuse and bilateral ground glass pulmonary opacities, anemia and hypoxemia, that can be induced by different causes, including several drugs. We report here the case of a 25-year-old woman who has been admitted to our pulmonary clinic for the onset of chest pain, cough and haemoptysis, started one week after her first treatment with alemtuzumab for multiple sclerosis. Computed tomography (CT) scan of the chest at the admission showed diffuse and bilateral ground glass pulmonary opacities. Her symptoms resolved completely without any treatment, after the interruption of alemtuzumab, and CT scan of the chest performed one month later showed total disappearance of the pulmonary opacities.
Downloads
Download data is not yet available.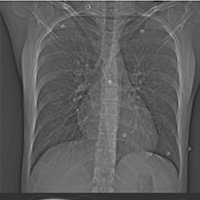 Downloads
Info
Section
Pneumology - Case Reports
Keywords:
diffuse pulmonary haemorrhage, multiple sclerosis, alemtuzumab, adverse drug reaction
Statistics
Abstract views:

278



PDF:

165
How to Cite
Cipolla, Gaia, Rosalba Relo, Elisa Pasciuta, Domenica Catalano, Federica Lo Bello, Irene Coppolino, Paolo Ruggeri, Alfio Proietto, Maria Buccafusca, Paola Maria Cutroneo, Gianluca Trifirò, and Gaetano Caramori. 2020. "A Case of Lung Injury Resembling Diffuse Pulmonary Hemorrhage After the First Administration of Alemtuzumab in a Patient With Multiple Sclerosis. Role of the HRCT". Monaldi Archives for Chest Disease 90 (3). https://doi.org/10.4081/monaldi.2020.1352.