Gram-negative infective endocarditis: a retrospective analysis of 10 years data on clinical spectrum, risk factor and outcome
Abstract
Infective endocarditis (IE) is a significant cause of morbidity and mortality. Underlying congenital heart disease and acquired valvular disease significantly increases the IE risk, which is still prevalent in developing countries. Gram-negative organism related IE prevalence appears to be rising with limited data on their presentation and outcomes. This study hopes to shed further light on this subject. This retrospective cross-sectional study occurred in a tertiary care center in South India. A retrospective cross-sectional study performed in a single tertiary care center in South India. All patients with IE from 2006 to 2016 were included in this study. The details of clinical presentation, laboratory investigations, clinical course, microbiology, and outcomes were obtained. Patients fulfilling the modified Duke's criteria and a culture-proven diagnosis of gram-negative IE were eligible for inclusion. A total of 27 patients were enrolled from Jan 2006 to Dec 2016, among whom 78% were male. Prior structural heart disease was common in our cohort (41%) with renal (55%) and embolic (51%) complications being the most common systemic complications. A comparison of mortality with survivors found that congenital and acquired structural heart disease had a higher risk of mortality. Non-fermenting GNB accounted for 52% of the cohort, with Pseudomonas accounting for 19%. E. coli was the most common bacilli isolated, constituting 37% of the cohort. Assessment of risk factors for adverse outcomes found that renal dysfunction and intravascular device were significant with multivariate-logarithmic analysis showing renal dysfunction as an independent risk factor. In-hospital mortality in this series was 30%. In conclusion, gram-negative IE was more prevalent among males. Underlying structural heart disease was the most common risk factor associated with the disease. Renal dysfunction and embolic complications were the most common complications in this cohort. E. coli and NFGNB accounted for 70% of the offending organisms. In-hospital mortality was similar to patients with IE secondary to common organisms. The presence of renal dysfunction was an independent risk factor for an adverse outcome.
Downloads
Download data is not yet available.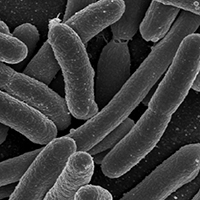 Downloads
Info
Section
Cardiology - Original Articles
Keywords:
Infective endocarditis, bacteria, gram negative, outcome
Statistics
Abstract views:

317



PDF:

144
How to Cite
Thomas, Vineeth Varghese, Ajay Kumar Mishra, Sudha Jasmine, and Sowmya Sathyendra. 2020. "Gram-Negative Infective Endocarditis: A Retrospective Analysis of 10 Years Data on Clinical Spectrum, Risk Factor and Outcome". Monaldi Archives for Chest Disease 90 (4). https://doi.org/10.4081/monaldi.2020.1359.