Utilization of endobronchial electrocautery for removal of an impacted airway foreign body
Abstract
Dear Editor,
Aspiration of a foreign body into the tracheobronchial tree can occur at any age, though it occurs more commonly in children. In small children, the foreign body commonly gets lodged in the central airways (trachea and mainstem bronchi); hence, the presentation is usually sudden onset of cough and dyspnea or even lifethreatening respiratory failure in an otherwise healthy child. A witnessed aspiration or a history of aspiration can usually be elicited.
Downloads
Download data is not yet available.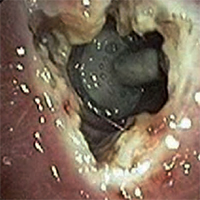 Downloads
Info
Section
Letters to the Editor
Keywords:
Bronchoscopy, foreign body, electrocautery
Statistics
Abstract views:

211



PDF:

108
How to Cite
Nongpiur, Vijay Noel, Saurabh Mittal, Karan Madan, Anant Mohan, and Vijay Hadda. 2020. "Utilization of Endobronchial Electrocautery for Removal of an Impacted Airway Foreign Body". Monaldi Archives for Chest Disease 90 (3). https://doi.org/10.4081/monaldi.2020.1383.