Aortic dissection in a young male with isolated interrupted aortic arch: an unusual association
Abstract
Interruption of the aortic arch (IAA) is a rare congenital anomaly which has been infrequently documented in the adult population. Aortic dissection (AD) is an emergency often presenting as acute chest pain and warranting urgent intervention. A 32-year-old male presented to Emergency Department with acute chest pain. Clinical examination revealed feeble pulses in bilateral lower limbs with a blood pressure difference between upper and lower limbs. Two-dimensional Echocardiography was suggestive of IAA with AD in the descending thoracic aorta. This was confirmed on computed tomography scan of the aorta which revealed complete interruption of the aortic arch distal to left subclavian artery along with the presence of an intimo-medial flap in descending thoracic aorta. A diagnosis of IAA with AD was made. The patient underwent an urgent aortic repair surgery following which he has been largely asymptomatic. A suspicion of AD should always be made in any patient presenting with acute onset chest pain radiating to the back along with accelerated hypertension/feeble pulses in extremity. Occurrence of AD in an adult with IAA is a distinct rarity and has been documented only thrice.
Downloads
Download data is not yet available.
References
Steidele RJ. Samml Chir u Med Beob (Vienna) 1778;2:114.
Gordon EA, Person T, Kavarana M, Ikonomidis JS. Interrupted aortic arch in the adult. J Card Surg 2011;26:405-9. DOI: https://doi.org/10.1111/j.1540-8191.2011.01273.x
Celoria GC, Patton RB: Congenital absence of the aortic arch. Am Heart J 1959;58:407-13. DOI: https://doi.org/10.1016/0002-8703(59)90157-7
Erbel R, Aboyans V, Boileau C, et al. ESC Committee for Practice Guidelines. 2014 ESC Guidelines on the diagnosis and treatment of aortic diseases: Document covering acute and chronic aortic diseases of the thoracic and abdominal aorta of the adult. The Task Force for the Diagnosis and Treatment of Aortic Diseases of the European Society of Cardiology (ESC). Eur Heart J 2014;35:2873-926.
Li J, Zheng M. Aortic arch interruption with thoracic aortic dissection. Ann Thorac Surg 2011;91:615. DOI: https://doi.org/10.1016/j.athoracsur.2010.06.037
Peng LQ, Yang ZG, Yu JQ, et al. Isolated interrupted aortic arch accompanied by type B aortic dissection and extensive collateral arteries diagnosed with MDCT angiography. Clin Imaging 2012;36:602-5. DOI: https://doi.org/10.1016/j.clinimag.2011.12.021
Pérez TM, García SM, Velasco ML, Sánchez AP. Interrupted aortic arch diagnosis by computed tomography angiography and 3-D reconstruction: A case report. Radiol Case Rep 2017;13:35-8. DOI: https://doi.org/10.1016/j.radcr.2017.10.001
Yang DH, Goo HW, Seo DM, et al. Multislice CT angiography of interrupted aortic arch. Pediatr Radiol 2008;38:89-100. DOI: https://doi.org/10.1007/s00247-007-0662-3
Sai Krishna C, Bhan A, Sharma S, et al. Interruption of aortic arch in adults: surgical experience with extra-anatomic bypass. Tex Heart Inst J 2005;32:147-50.
Goel PK, Moorthy N. Percutaneous reconstruction of interrupted aortic arch in an adult. JACC Cardiovasc Interv 2013;6:e21-2. DOI: https://doi.org/10.1016/j.jcin.2012.11.012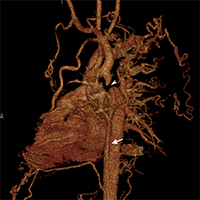 Downloads
Info
Section
Cardiology - Case Reports
Keywords:
Aortic dissection, D-dimer, echocardiography, interrupted aortic arch, multi detector Computed Tomography
Statistics
Abstract views:

137



PDF:

96
How to Cite
Kunal, Shekhar, Pooja Pathak, Shruti Mittal, Vijay Pathak, and Prateek Vaswani. 2021. "Aortic Dissection in a Young Male With Isolated Interrupted Aortic Arch: An Unusual Association". Monaldi Archives for Chest Disease 91 (1). https://doi.org/10.4081/monaldi.2021.1404.