Predictors of mortality in hospitalized patients with influenza: a five-year experience from a tertiary care centre in Pakistan
Abstract
Influenza outbreaks are associated with significant morbidity. Our aim was to determine the factors associated with increased mortality in hospitalized patients admitted with diagnosis of influenza, at a tertiary care center in Pakistan. This study included all adult patients with an influenza infection, confirmed by realtime reverse-transcriptase polymerase-chain-reaction (RT-PCR) at Aga Khan University Hospital Pakistan. In our study, 112 patients with laboratory-confirmed influenza virus infection were admittedat our hospital from the 1st of January 2013 to the 31st of December 2018. Eighty-nine patients (79.46%) were managed in ward or special care units and 23 patients (20.5%) received treatment in intensive care unit (ICU). The overall mortality in our study was 15/112 (13.4%) with the mortality rate of ICU patients being 47.8% while the mortality rate of patients treated in special care units and wards was only 4.5%. The mean age of patients with influenza infection was 58.1 years (±16.6). Influenza virus type A was found in 87 patients (77.6%), while influenza type B was present in only 25 (22.4%) patients. Out of the 15 non-survivors, 14 had influenza A. Only 17 patients (15.2%) were found to have positive culture of respiratory specimen, out of which 3 were non-survivors and 14 were survivors. Our analysis identified septic shock (odds ratio 45.24; 95%, confidence interval 6.20-330; p<0.001), renal failure (odds ratio 10.88; 95%, confidence interval 1.61-73.52; p=0.01) and ICU stay (odds ratio 17.22; 95%, confidence interval 2.68-110.5; p=0.003) as independent risk factors associated with in-hospital mortality. 
Downloads
Download data is not yet available.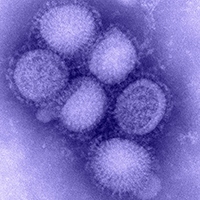 Downloads
Info
Section
Pneumology - Original Articles
Keywords:
Influenza, mortality, predictors
Statistics
Abstract views:

354



PDF:

142
How to Cite
Khanum, Iffat, Amber Sabeen Ahmed, Safia Awan, Sabiha Bano, and Bushra Jamil. 2020. "Predictors of Mortality in Hospitalized Patients With Influenza: A Five-Year Experience from a Tertiary Care Centre in Pakistan". Monaldi Archives for Chest Disease 90 (4). https://doi.org/10.4081/monaldi.2020.1456.