A case of extensive biatrial clot straddling the patent foramen ovale
Abstract
Patent foramen ovale (PFO) is a common abnormality that occurs in about 25% of the adult population. In most cases is a benign finding, but sometimes the communication between the right and the left atria can be a conduit for thrombi.
Downloads
Download data is not yet available.
References
Baydoun H, Barakat I, Hatem E, et al. Thrombus in transit through patent foramen ovale. Case Rep Cardiol 2013;2013:4.
Fauveaua E, Cohen A, Bonnet N, et al Surgical or medical treatment for thrombus straddling the patent foramen ovale: Impending paradoxical embolism? Report of four clinical cases and literature review. Arch Cardiovasc Dis. 2008;101:637-44.
Myers PO, Bounameaux H, Panos A, et al. Impending paradoxical embolism: systematic review of prognostic factors and treatment. Chest 2010;137:164-70.
Seo WW, Kim SE, Park MS, et al. Systematic review of treatment for trapped thrombus in patent foramen ovale. Korean Circ J 2017;47:776-85.
Ma X, Song L, Yang H, et al. Impending paradoxical embolism. Ann Thorac Surg 2019;108:e73-5.
Konstantinides SV, Meyer G, Becattini C, et al. 2019 ESC Guidelines for the diagnosis and management of acute pulmonary embolism developed in collaboration with the European Respiratory Society (ERS). Eur Heart J 2020;41:543-603.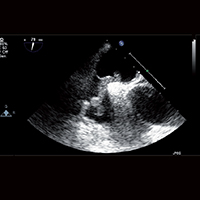 Downloads
Info
Section
Cardiology - Case Reports
Keywords:
anticoagulation, echocardiography, thrombus
Statistics
Abstract views:

259



PDF:

81
How to Cite
Nugara, Cinzia, Annamaria Lo Voi, Davide Diana, Silvia Sarullo, Antonino Zarcone, and Filippo M. Sarullo. 2021. "A Case of Extensive Biatrial Clot Straddling the Patent Foramen Ovale". Monaldi Archives for Chest Disease 91 (2). https://doi.org/10.4081/monaldi.2021.1733.
License
Copyright (c) 2021 The Author(s)
This work is licensed under a Creative Commons Attribution-NonCommercial 4.0 International License.
PAGEPress has chosen to apply the Creative Commons Attribution NonCommercial 4.0 International License (CC BY-NC 4.0) to all manuscripts to be published.