Recovering of oxygenation, physical function and disability in patients with COVID-19
Abstract
The present cases report describes middle-time course of respiratory and physical variables in eight COVID-19 patients who were transferred from ICU of COVID Hub in our subacute COVID-19 unit. Secondly, they were admitted in a pulmonary rehabilitation unit and, at discharge, a tele-rehabilitation program was provided as a continuum of care at home. Time course of oxygenation, physical function and disability were recorded. As expected, the acute event produced in these patients a dramatic worsening in oxygenation and physical activities, with a substantial improvement in oxygenation and mild disability after the sub-acute stay.  After rehabilitation program, the patients showed additional improvement in particular in physical function. Anyway, this recover was not complete for all patients. The majority of COVID-19 survivors experienced ARF recovered oxygenation, physical function and disability within a median time of 137 days. A minority needs further follow up and rehabilitation maintenance due to incomplete recovery.
Downloads
Download data is not yet available.
References
Lian J, Jin X, Hao S, Jia H, et al. Epidemiological, clinical, and virological characteristics of 465 hospitalized cases of coronavirus disease 2019 (COVID-19) from Zhejiang province in China. Influenza Other Respir Viruses 2020;14:564-574.
Lian J, Jin X, Hao S, Cai H, et al. Analysis of epidemiologic and clinic features in older patients with coronavirus disease 2019 (COVID-19) outside Wuhan. Clin Infect Dis 2020;71:740-7.
Beeching NJ, Fletcher TE, Fowler R. Coronavirus disease 2019 (COVID-19). BMJ Best Practices 2020. Accessed on: 31 December 2020. Available from: https://bestpractice.bmj.com/topics/en-gb/3000168
Belli S, Balbi B, Prince I, et al. Low physical functioning and impaired performance of activities of daily life in COVID-19 patients who survived hospitalisation. Eur Respir J 2020;56:2002096.
Paneroni M, Simonelli C, Saleri M, et al. Muscle strength and physical performance in patients without previous disabilities recovering from COVID-19 pneumonia. Am J Phys Med Rehabil 2021;100:105-9.
Huang C, Huang L, Wang Y, et al. 6-month consequences of COVID-19 in patients discharged from hospital: a cohort study. Lancet 2021;397:220-32.
Liu K, Zhang W, Yang Y, et al. Respiratory rehabilitation in elderly patients with COVID-19: A randomized controlled study. Complement Ther Clin Pract 2020;39:101166.
Lazzeri M, Lanza A, Bellini R, et al. Respiratory physiotherapy in patients with COVID-19 infection in acute setting: a Position Paper of the Italian Association of Respiratory Physiotherapists (ARIR). Monaldi Arch Chest Dis 2020;90:1285.
Vitacca M, Carone M, Clini EM, et al. Joint statement on the role of respiratory rehabilitation in the COVID-19 crisis: The Italian position paper. Respiration 2020;99:493-9.
Maltais F, LeBlanc P, Jobin J, et al. Intensity of training and physiologic adaptation in patients with chronic obstructive pulmonary disease. Am J Respir Crit Care Med 1997;155:555-61.
Guralnik JM, Simonsick EM, Ferrucci L, et al. A short physical performance battery assessing lower extremity function: association with self-reported disability and prediction of mortality and nursing home admission. J Gerontol 1994;49:M85-94.
Shah S, Vanclay F, Cooper B. Improving the sensitivity of the Barthel Index for stroke rehabilitation. J Clin Epidemiol 1989;42:703-9.
Gandotra S, Lovato J, Case D, et al. physical function trajectories in survivors of acute respiratory failure. Ann Am Thorac Soc 2019;6:471-7.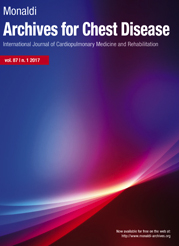 Downloads
Info
Section
COVID-19 - Collection of articles on the Coronavirus outbreak
Keywords:
disability, coronavirus, rehabilitation, outcome, physical function
Statistics
Abstract views:

1937



PDF:

93
How to Cite
Bertacchini, Laura, Mara Paneroni, Laura Comini, Simonetta Scalvini, and Michele Vitacca. 2021. "Recovering of Oxygenation, Physical Function and Disability in Patients With COVID-19". Monaldi Archives for Chest Disease, April. https://doi.org/10.4081/monaldi.2021.1817.
License
Copyright (c) 2021 The Author(s)
This work is licensed under a Creative Commons Attribution-NonCommercial 4.0 International License.
PAGEPress has chosen to apply the Creative Commons Attribution NonCommercial 4.0 International License (CC BY-NC 4.0) to all manuscripts to be published.